Hello everybody!
This is our very first newsletter of the school year! It's been a busy start so far. With a full class of 20 kids, Kindergarten is going to be go go go this whole year. But we are looking forward to the challenge!
On the first day of school, we spent time getting to know each other. We read a story called School's First Day of School, which led to a good conversation about how it's okay to feel nervous on the first day of school. Students had a packet of coloring pages that they completed as well, which was a great way to see where they are at with seating in their seats, writing their names, and coloring!
Students had plenty of time to play freely, exploring the blocks, building cubes, and playdoh. They did great following the directions given to make sure that things stayed under control.
Look at those smiling faces!
On Friday, our first full day of school, we established the rules in our classroom together. We also talked about the consequences for what happens when these rules are broken. Students then signed their names to say that they agree with the rules we came up with!
We started out our week working on using pencils correctly and tracing our name. Many students did a wonderful job! Our goal will be to memorize how to write our name without looking at our name tag, keeping our letters within the lines given, and using the appropriate capitalization. Some students are also working on holding the pencil correctly, so have them practice writing and coloring as much as they can at home.
To continue working with pencils, we established the class expectations for how to use them appropriately. We also began working in our Handwriting workbooks! These are gunna be kept in their desks. For now we are working on making straight lines and becoming familiar with the structure of the handwriting lines we use.
We also spent days talking about how to appropriately use markers, scissors, and glue. We made charts to separate the Do's and Don't's. When talking about markers, students got to choose what picture they wanted to color with the markers. Then we saved these pictures in our desks and the next day we cut them into strips to practice using scissors safely. Then, we put the pictures back together and glued them to construction paper to practice using the glue sticks.
Students were introduced to our Cozy Corner, which is where students can go to use the Calm Down Kit when they are feeling overwhelmingly sad or angry. The Calm Down Kit has fidget toys, stress balls, coloring books, etc. Students will have a timer set for how long they can be over there. There are also visual reminders for various ways to calm their body.
On Thursday, students played ABC Bingo. This was a great way to do a quick and very general assessment on students' knowledge of the alphabet. It was also a lot of fun!
We read quite a few book about starting school, including Kindergarten ,Here I Come and Grover Goes to School. We also read the story Howard B. Wigglebottom Learns It's Okay to Walk Away, which is all about learning when to back away and calm your body.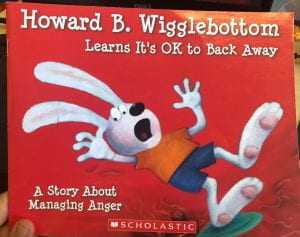 Students also did a STEM activity this week with playdoh and popsicle sticks. Students got creative making airships, flowers, spelling their name, making chairs, and more!
Students also built lots of things during Free Play using various tools and toys around the classroom. It's a great opportunity to have them work on fine motor skills and express their creativity.
Another thing we discussed this week was the difference between "little deals" and "big deals". Because we have such a large class, I want students to be able to handle minor disagreements on their own as much as possible. To minimize tattling, I have students differentiate between big deals and little deals that way they know which incidents are a priority and need a grown up's help. This also helps build resiliency skills. Having this chart up in the classroom is a good visual remind of this as well.
Lastly, Kindergarten is loving using Brain Breaks as a way to break up our day and reset when we start to get antsy. We play Ms. V Says, have dance parties, and more!
We had a great first week, and I'm looking forward to next week! Please keep remembering to send in your student's folder with them in their backpack every day. If you have any questions, please don't hesitate to reach out!
Love,
Ms. V 🙂